10 October 2023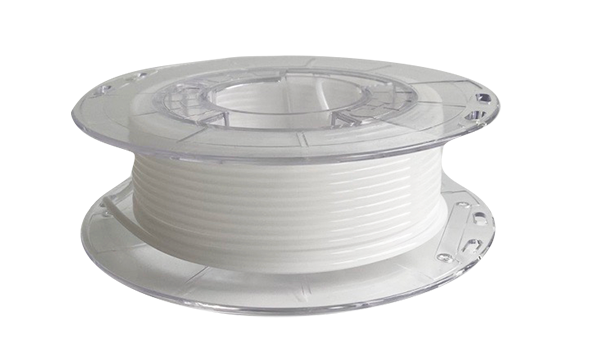 Our new filament, Caprolactisse 100, a medical-grade polymer. Caprolactisse, derived from caprolactone, is a white, flexible, semi-crystalline thermoplastic designed for slow degradation of over 36 months once implanted.
Key features:
Bioresorbable & Biocompatible: Caprolactisse 100 combines biodegradability and biocompatibility, making it the ideal choice for a wide range of medical applications.
Implantable: With its slow degradation rate, it's optimal for scaffolds, and much more.
FDM technology: Using filament deposition modeling, Caprolactisse 100 guarantees accurate and reliable 3D printing.
Diameters & Colors: Available in two diameters, 1.75 mm and 2.85 mm, white
Its 3D printing parameters :
Printing temperature: Between 160°C and 200°C
Plate Temperature: Maintained between 40°C and 45°C
Print Speed: Optimal between 20 and 60 mm/s
Cooling Fan Speed: At 100%.Nos indications d'utilisation :
For optimum print quality, we recommend drying the product in an oven for 48 hours at 40°C. As PCL has difficulty solidifying at room temperature, slow printing allows the first layers to crystallize before adding new layers. In addition, give preference to printing small-volume parts.
For further details, please consult the full technical data sheet on our website.
You'll also find our other implantable and resorbable medical-grade filaments for 3D printing: DIOXACTISSE 100 [PDO], GLYCOLACTISSE 85:15 [PLGA] and POLY-CAPROLACTISSE 70/30 [PLCL].